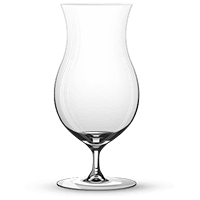 Get your taste buds tingling with our Airhead drink recipe. Perfect for beginners, this tropical cocktail packs a punch with vodka, Hawaiian Punch, and lime juice. Top it off with Sprite soda for a refreshing finish. Shake it up with our easy-to-use shaker and serve in a Hurricane glass. Squeeze fresh lime juice for an extra zing. Mix it up tonight!
Airhead Ingredients
Airhead Equipment
shaker - makes it easy to mixture and chill ingredients
juicer, squeezer manual or automatic - if you mind using fresh juice
Airhead Recipe
optionally make fresh Lime juice you can squeeze the juice yourself (once squeezed, fresh juice lasts good about 12 hours)
fill a shaker halfway with ice cubes
shake till perfectly chilled
pour into Hurricane glass halfway with ice
This glass's pear-shaped curve is reminiscent of classic hurricane lamps, which is how it got its name. It holds between 10 and 12 ounces and is often used for piña coladas and other frozen cocktails.
The Airhead Cocktail: A Fun and Refreshing Drink for Any Occasion
If you're looking for a refreshing and fun cocktail to enjoy with friends, look no further than the Airhead. This bright and colorful drink is perfect for any occasion, whether you're hosting a party or just relaxing at home. In this article, we'll explore the history and popularity of this cocktail, the ingredients that make it so delicious, and how to make it at home. We'll also discuss variations of the Airhead, common mistakes to avoid, and more.
Popularity
The Airhead cocktail is a relatively new drink, but it has quickly gained popularity among both bartenders and cocktail enthusiasts. It is believed to have originated in the United States, but its exact origin is unclear. Some speculate that it was created in a bar in Miami, while others think it may have originated in New York City.
Regardless of its origin, the Airhead is known for its bright colors and sweet, fruity flavor. It is often served in a hurricane glass and garnished with fresh fruit or a colorful straw. The Airhead's popularity is due in part to its fun and playful appearance, making it a hit at parties and events.
Ingredients
The Airhead cocktail is made with just a few simple ingredients, but each plays an important role in the drink's overall flavor. Here's what you'll need to make one Airhead cocktail:
1 1/2 oz Vodka
1 1/2 oz Hawaiian Punch
1/4 oz Lime juice
6 oz Sprite soda
To make the Airhead, you'll need a shaker to mix and chill the ingredients. You may also want to use a juicer or squeezer, either manual or automatic, to extract fresh lime juice. However, if you don't have fresh lime juice on hand, bottled juice will work just fine.
How to Garnish
The Airhead cocktail is often garnished with fresh fruit, such as a slice of orange or a wedge of pineapple. You can also add a colorful straw or an umbrella for a fun and festive touch. To garnish your Airhead, simply place the fruit or straw on the rim of the glass or float it on top of the drink.
Variations
The Airhead can be easily adapted to suit a variety of dietary needs and preferences. Here are a few variations to try:
Virgin/Mocktail Version: Omit the vodka and replace the Sprite soda with lemon-lime soda for a non-alcoholic version of the drink.
Gluten-Free Version: Ensure that the Hawaiian Punch you use is gluten-free, and replace the Sprite soda with a gluten-free alternative, such as 7-Up or Sierra Mist.
Vegan Version: The Airhead is already vegan-friendly, as all of its ingredients are plant-based.
Keto Version: Use a sugar-free version of Hawaiian Punch and Sprite soda, and replace the lime juice with lemon juice for a lower-carb version of the drink.
Low-Calorie Version: Use a diet version of Sprite soda and reduce the amount of Hawaiian Punch to 1 oz for a lower-calorie version of the drink.
Common Mistakes
When making an Airhead cocktail, there are a few common mistakes to avoid. Here are some tips to help you make the perfect drink:
Use fresh lime juice: Bottled lime juice can have a slightly bitter taste, so it's best to use fresh lime juice for the best flavor.
Chill the ingredients: To ensure that your Airhead is refreshing and cold, be sure to chill your ingredients before mixing them together.
Don't over-shake: Over-shaking the ingredients can cause the drink to become too foamy, so be sure to shake just until the ingredients are combined.
Use the right glass: The Airhead is traditionally served in a hurricane glass, which allows for plenty of ice and garnish. Using the wrong glass can alter the flavor and appearance of the drink.
Conclusion
The Airhead cocktail is a fun and refreshing drink that's perfect for any occasion. Whether you're looking for a sweet and fruity beverage to enjoy on a hot day or a colorful drink to serve at your next party, the Airhead is sure to please. With just a few simple ingredients and some basic bartending skills, you can create this delicious cocktail at home. So why not give it a try?
If you are going to order Airhead in a bar, don't forget to mention all the ingredients to the bartender. Airhead can be served with different ingredients in different places.