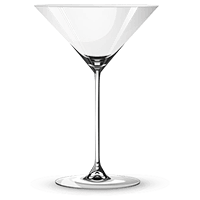 Shake up your bartending skills with the Bloodhound Cocktail! This refreshing drink is made with gin, dry and sweet vermouth, and fresh strawberries for a sweet and tangy twist. Blend it all up with ice, and garnish with a fresh strawberry - perfect for impressing your guests. Grab your classic or smoothie blender and get mixing today!
Bloodhound Cocktail Ingredients
Bloodhound Cocktail Equipment
classic kitchen blender or smoothie blender works too
Bloodhound Cocktail Recipe
mix all ingredients together
serve in Cocktail glass
use Strawberry for garnish
The conical shape of the cocktail glass brings to mind martini for most people. Cocktail glasses are for drinks with a volume of 3 to 6 ounces that are usually served "up" without ice.
The Bloodhound Cocktail: A Classic Blend of Gin and Vermouth
As a professional bartender, the Bloodhound cocktail is one of my favorites to make. It's a classic blend of gin and vermouth with a fruity twist. In this article, we'll dive into the history and popularity of this cocktail, the essential ingredients, how to garnish it, variations you can try, and common mistakes to avoid when making it.
Popularity
The Bloodhound cocktail has been around for over a century. It originated in the United States during the prohibition era, when gin was one of the most popular spirits. The cocktail is famous for its fruity and refreshing taste, which comes from the combination of gin, dry vermouth, sweet vermouth, and strawberries.
The Bloodhound cocktail is a popular drink in many countries, but it's especially popular in the United States. It's often served at parties and social events, and it's a go-to drink for many people who enjoy the taste of gin.
Ingredients
The Bloodhound cocktail is made with just a few simple ingredients. The main ingredients are gin, dry vermouth, sweet vermouth, and strawberries. Here's a breakdown of each ingredient and its role in the cocktail:
Gin: Gin is the primary spirit in the Bloodhound cocktail. It provides a strong, juniper flavor that pairs well with the other ingredients in the cocktail.
Dry Vermouth: Dry vermouth is a fortified wine that adds a subtle herbal flavor to the cocktail. It's an essential ingredient in many classic cocktails, including the Bloodhound.
Sweet Vermouth: Sweet vermouth is also a fortified wine, but it has a sweeter flavor than dry vermouth. It adds a touch of sweetness to the cocktail and balances out the strong flavor of the gin.
Strawberries: Strawberries are the key ingredient that gives the Bloodhound cocktail its fruity flavor. They also provide a beautiful red color to the cocktail.
How to Garnish
Garnishing the Bloodhound cocktail is simple. All you need is a fresh strawberry. Here's how to do it:
Cut the strawberry in half and slice a small notch in the center of one half.
Slide the strawberry onto the rim of the cocktail glass, with the notch facing outward.
The strawberry adds a pop of color to the cocktail and makes it look even more refreshing.
Variations
There are many variations of the Bloodhound cocktail that you can try. Here are a few ideas:
Virgin/Mocktail Version: To make a non-alcoholic version of the Bloodhound cocktail, simply omit the gin and replace it with club soda or a non-alcoholic gin substitute like Seedlip.
Gluten-Free Version: All the ingredients in the Bloodhound cocktail are gluten-free, so no substitutions are necessary.
Vegan Version: The Bloodhound cocktail is already vegan-friendly. Just make sure to use a vegan-friendly gin.
Keto Version: To make a keto-friendly version of the Bloodhound cocktail, use a low-carb gin like Sipsmith or use a gin substitute like Seedlip Grove.
Low-Calorie Version: To make a low-calorie version of the Bloodhound cocktail, use a low-calorie gin like Tanqueray 10 or replace the gin with a low-calorie gin substitute like Seedlip Spice.
Common Mistakes
Here are some common mistakes to avoid when making the Bloodhound cocktail:
Using too much ice: The Bloodhound cocktail should be served chilled, but using too much ice can dilute the flavors. Stick to 1/2 cup of ice for the perfect balance.
Not shaking the cocktail enough: The Bloodhound cocktail should be shaken vigorously for at least 20 seconds to fully blend the flavors.
Using old or low-quality ingredients: The Bloodhound cocktail is a simple cocktail, but it relies on high-quality ingredients to taste great. Use fresh strawberries and high-quality gin and vermouth for the best results.
In conclusion, the Bloodhound cocktail is a classic blend of gin and vermouth with a fruity twist. It's a refreshing and easy-to-make cocktail that's perfect for any occasion. Whether you're looking for a traditional cocktail or a twist on the original, the Bloodhound cocktail is sure to please. So, grab your shaker and some fresh strawberries, and let's make a Bloodhound!
If you are going to order Bloodhound Cocktail in a bar, don't forget to mention all the ingredients to the bartender. Bloodhound Cocktail can be served with different ingredients in different places.