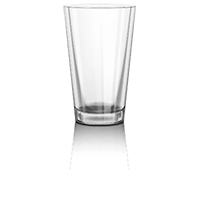 Looking for a drink that's bold, adventurous, and full of flavor? Look no further than the Clit Licker! This daring cocktail blends the refreshing taste of beer with the minty kick of Creme de Menthe, the boldness of gin, and the depth of Jagermeister. And with just one egg to give it a silky texture, it's a drink that's as smooth as it is flavorful. So why wait? Grab your shaker and get ready to mix up a drink that's sure to please even the most adventurous of palates!
Clit Licker Ingredients
Clit Licker Equipment
shaker - makes it easy to mixture ingredients
Clit Licker Recipe
combine all ingredients except Beer together and shake properly
fill Highball glass almost full with ice cubes
top up with Beer
The highball (or hi-ball) and collins glasses have a lot in common. They can both be used for tall beverages and hold the same amount of liquid, which can range from 8 to 16 ounces.

The Clit Licker: A Bartender's Guide

Are you looking for a unique and exciting cocktail to impress your guests? Look no further than the Clit Licker! This bold and flavorful drink is sure to be a hit at any gathering. In this guide, we will explore the popularity, ingredients, garnishing, variations, and common mistakes of making this cocktail.

Popularity

The Clit Licker has been gaining popularity in recent years, especially among those who enjoy bold, flavorful cocktails. While its origins are unclear, it is believed to have originated in the United States. The cocktail is famous for its unique combination of ingredients, including beer, creme de menthe, eggs, gin, and Jagermeister.

In terms of appearance, the Clit Licker is typically served in a highball glass and has a light green color thanks to the addition of creme de menthe. Its unusual name and ingredients make it a conversation starter and a fun drink to serve at parties.

Ingredient Roles

Each ingredient in the Clit Licker plays an important role in creating its distinct flavor profile. The beer adds a refreshing and bubbly quality to the cocktail, while the creme de menthe provides a minty sweetness. The eggs contribute to the drink's frothy texture and add a silky mouthfeel. The gin adds a botanical flavor, and the Jagermeister provides a hint of licorice and spice.

How to Garnish

When serving the Clit Licker, garnishing is key to enhancing its appearance and flavor. We recommend garnishing with a sprig of fresh mint to complement the minty flavor of the creme de menthe. You can also add a few drops of bitters or a splash of lemon juice to balance out the sweetness of the cocktail.

Variations

One of the best things about the Clit Licker is its versatility. You can easily create variations that cater to different tastes and dietary restrictions. Here are a few ideas:
Virgin/Mocktail Version: To make a non-alcoholic version of the Clit Licker, simply omit the gin and Jagermeister and replace the beer with a non-alcoholic beer or soda water.
Gluten-Free Version: Make the Clit Licker gluten-free by using a gluten-free beer and ensuring that all other ingredients are gluten-free as well.
Vegan Version: Replace the eggs with aquafaba, the liquid from a can of chickpeas. This will give the cocktail a similar frothy texture while keeping it vegan-friendly.
Keto Version: To make the Clit Licker keto-friendly, replace the beer with a low-carb beer or soda water and use a sugar-free substitute for the creme de menthe.
Low-Calorie Version: Swap out the beer for a light beer or use soda water instead to reduce the calorie count.
More Variations: Experiment with different types of beer, such as an IPA or a stout, to create unique flavor combinations. You can also try adding different liqueurs or syrups to the mix.
Common Mistakes when Making
When making the Clit Licker, there are a few common mistakes to avoid. First, be sure to use fresh ingredients, especially the eggs. Using old eggs can result in a less-than-pleasant taste and texture. Additionally, make sure to shake the cocktail vigorously to ensure that all ingredients are well combined and the egg is properly frothed.
Another mistake to avoid is using the wrong type of beer. The Clit Licker is traditionally made with a light beer, but you can experiment with different types to find the perfect flavor combination. Finally, be sure to garnish the cocktail properly to enhance its appearance and flavor.
In conclusion, the Clit Licker is a fun and flavorful cocktail that is sure to impress your guests. With its unique combination of ingredients and versatile variations, it is the perfect drink for any occasion. Remember to use fresh ingredients, shake vigorously, and garnish properly to create the perfect Clit Licker every time. Cheers!
If you are going to order Clit Licker in a bar, don't forget to mention all the ingredients to the bartender. Clit Licker can be served with different ingredients in different places.