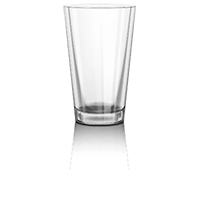 Shake up your next party with the smooth and refreshing Ice Breaker cocktail! Made with Cognac, Creme de Noyaux, dark rum, gin, and a splash of citrus, this drink is perfect for impressing your guests and breaking the ice. Simply shake and strain with a juicer for fresh-squeezed flavor. Serve in a highball glass and let the good times roll!
Ice Breaker Ingredients
Ice Breaker Equipment
shaker with strainer - get rid of large pieces of ingredients (ex: fruit parts, seeds)
juicer, squeezer manual or automatic - if you mind using fresh juice
Ice Breaker Recipe
consider making fresh Lemon juice you can press fruit yourself (be careful - fresh juice stays good only 12 hours)
fill a shaker halfway with ice cubes to cool the ingredients properly
shake till perfectly chilled
serve in Highball glass halfway with ice
The highball (or hi-ball) and collins glasses have a lot in common. They can both be used for tall beverages and hold the same amount of liquid, which can range from 8 to 16 ounces.

The Ice Breaker: A Refreshing and Classic Cocktail

Are you looking for a refreshing and classic cocktail to serve at your next party or gathering? Look no further than the Ice Breaker! This cocktail has a long and fascinating history, and it's easy to make with just a few simple ingredients.
Popularity
The Ice Breaker is a classic cocktail that has been around for decades. Its origins are somewhat unclear, but it's believed to have been invented in the United States in the 1920s or 1930s. It has since become a popular drink around the world, with many variations and adaptations.
The Ice Breaker is famous for its refreshing and citrusy flavor, which comes from the lemon and orange juices. It's also known for its unique combination of ingredients, which includes cognac, creme de noyaux, dark rum, and gin. The cocktail is typically served in a highball glass with ice, making it perfect for hot summer days or any time you need a refreshing drink.
Ingredient Roles
The Ice Breaker is made up of several different ingredients, each of which plays an important role in the final flavor of the cocktail. Here's a rundown of each ingredient and what it contributes to the drink:
Cognac: Cognac is a type of brandy made from grapes, and it adds a rich and complex flavor to the Ice Breaker.
Creme de Noyaux: This almond-flavored liqueur adds a sweet and nutty flavor to the cocktail.
Dark Rum: Dark rum is aged longer than white or gold rum, which gives it a deeper, more complex flavor. It adds a subtle sweetness and richness to the Ice Breaker.
Gin: Gin is a spirit made from juniper berries and other botanicals. It adds a crisp, herbal flavor to the cocktail.
Lemon Juice: Lemon juice adds a bright and citrusy flavor to the cocktail, balancing out the sweetness of the other ingredients.
Orange Juice: Orange juice adds another layer of citrus flavor to the cocktail, making it even more refreshing and flavorful.
How to Garnish
The Ice Breaker is typically served in a highball glass with ice, but it can also be garnished with a variety of ingredients to add even more flavor and visual appeal. Here are a few garnish options to consider:
Lemon or orange slices: Adding a slice of lemon or orange to the rim of the glass can add a pop of color and flavor to the drink.
Mint leaves: Fresh mint leaves can add a refreshing and aromatic touch to the cocktail.
Cherries: A maraschino cherry can add a sweet and fruity flavor to the drink.
Variations
One of the great things about the Ice Breaker is that it's easy to adapt and customize to your liking. Here are a few variations to consider:
Virgin/Mocktail version: To make a non-alcoholic version of the Ice Breaker, simply omit the cognac, rum, and gin and replace them with more orange and lemon juice.
Gluten-free version: All of the ingredients in the Ice Breaker are naturally gluten-free, so no substitutions are necessary.
Vegan version: The Ice Breaker is already a vegan cocktail, so no substitutions are necessary.
Keto version: To make a keto-friendly version of the Ice Breaker, simply omit the orange juice and replace it with more lemon juice. You can also use a sugar-free sweetener instead of the creme de noyaux.
Low-calorie version: To make a lighter version of the Ice Breaker, use less creme de noyaux and replace some of the juice with soda water or another low-calorie mixer.
More variations: The Ice Breaker is a versatile cocktail that can be adapted in many ways. Try experimenting with different types of rum or gin, or add a splash of another fruit juice for even more flavor.
Common Mistakes When Making
While the Ice Breaker is a relatively simple cocktail to make, there are a few common mistakes to avoid:
Using bottled juice: For the best flavor, use fresh-squeezed lemon and orange juice. Bottled juice can have a different flavor and may not be as fresh.
Not shaking the cocktail enough: Make sure to shake the cocktail vigorously for at least 10 seconds to ensure that all of the ingredients are well-mixed.
Using too much creme de noyaux: While creme de noyaux adds a delicious flavor to the Ice Breaker, it can be overpowering if you use too much. Stick to the recommended amount in the recipe.
Overall, the Ice Breaker is a classic and refreshing cocktail that is sure to please anyone who tries it. With a few simple ingredients and some basic mixing skills, you can easily make this drink at home and impress your guests with your bartending skills. So why not give it a try and see why this cocktail has been popular for decades? Cheers!
If you are going to order Ice Breaker in a bar, don't forget to mention all the ingredients to the bartender. Ice Breaker can be served with different ingredients in different places.
You might be interested: